Clinic Sofia Named a 'Best Of' Finalist in Edina and Maple Grove
03.04.2022
We are thrilled to learn that Clinic Sofia is a finalist for Best OBGYN Practice in the 2022  Readers' Choice Awards for both Maple Grove and Edina. Earlier this year, Maple Grove and Edina magazines surveyed their readers regarding which restaurants, retailers and service providers they like best in their respective communities. The votes have been tabulated and the top three finalists in each category were announced this week. Winners will be announced this summer. Thanks to all who voted for us!  You can read more and meet all the Edina finalists across each category here. Maple Grove finalists are listed here.
Welcoming Elise Pesch
02.15.2022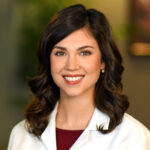 We are thrilled to welcome Nurse Practitioner Elise Pesch to our growing Maple Grove team!
Elise began her nursing career in Labor and Delivery, caring for many women with high-risk pregnancies at two academic medical centers in Chicago and later serving as a mentor for other nursing students. This encouraged her to pursue a Doctor of Nursing Practice degree at Rush University, where she worked as a family planning clinic registered nurse and provided patient education on breastfeeding, surgical procedures and more.
"I became fascinated with pregnancy in college after taking classes in developmental psychology and medical anthropology. I am very much a 'people person,' so becoming a nurse and eventually a nurse practitioner felt like the right role for me to pursue in making a positive difference in people's lives," she said. "I recognize that each individual begins a pregnancy under different circumstances and will need different types of support throughout their pregnancy. My goal is to provide individualized care to help each person have as healthy of a pregnancy as possible."
Elise also served as an OBGYN triage nurse, where she developed an interest in gynecology as well: "I love the continuity that comes with the OBGYN specialty—that I can support my patients over many years from young adulthood through menopause," she added. Mostly recently, she was a Family Nurse Practitioner and OBGYN health resource for the physicians at Axis Medical Center and Family Clinic, where she helped patients manage early pregnancy and breast concerns with a holistic approach to care. Outside of work, Elise likes to try new restaurants, practice yoga, walk and bike around the Minneapolis lakes and in nature, and enjoy her husband's home-cooked meals.
February is American Heart Month
02.14.2022
There is a lot to love about February. You've survived the first full month of winter! Valentine's or Galentine's Day! And February is also American Heart Month, the perfect time to pay attention to your amazing heart.
Did you know that the symptoms of heart attack are different for women than they are for men, and might not include chest pain? While squeezing or pressure in the chest can be a sign, women also may experience shortness of breath without chest discomfort as well as nausea, lightheadedness, and/or pain in the arms, back, neck, jaw or stomach. Some women liken it to flu symptoms. Heart disease remains the leading cause of death for women and men with one person dying of cardiovascular disease every 36 seconds, according to the CDC, so it pays to focus on heart health this month and throughout the year. The keys to a healthy heart start with quitting smoking—which can cut your risk of coronary heart disease in half in just one year—as well as a regular exercise program, a balanced diet and checking in with your healthcare provider. "In addition to diet, exercise and quitting smoking, it is important to pay attention to stress and to find time to slow down and take good care of yourself," said Dr. Pam Jordi. "It also helps to know your risk factors, such as family history, high blood pressure or cholesterol, diabetes and excessive alcohol use. We can help you find the information you need to take positive steps for your heart."
Clinic Sofia's New Maple Grove Location is Now Open
01.31.2022
Clinic Sofia's new clinic location in Maple Grove (next door to our former location) is now open and ready to welcome patients! The new, stand-alone building located at 15715 Grove Circle North includes a large, light-filled lobby with ample and size-friendly seating and features more open space throughout to give patients and staff room to move about in a safe and comfortable manner. Clinic Sofia also recently expanded its staff, adding two providers for a total of four physicians who will be on site each day. In addition, a second sonographer will increase the clinic's capacity for ultrasound needs.
"We hope our Maple Grove patients will love our new space as much as we do," said Clinic Sofia Clinic Administrator Katie Sexe, who adds they often hear their clinics don't feel like a typical doctor's office. "We take pride in offering a comforting and nurturing environment, from the personal attention we provide to each and every patient to our beautifully designed spaces, and are so excited to welcome patients into our new home in Maple Grove."
The Star Tribune talks to Dr. Wagner
10.26.2021
The Star Tribune recently talked with one of Clinic Sofia's patients and Dr. Jewelia Wagner about pregnancy and the COVID vaccination. The article encourages pregnant women to talk openly with their doctors to get their questions answered and shares one patient's experience about how she put her trust in Dr. Wagner to get the information she needed to make an informed decision. Read the article here.
Dr. Staci Biegner Joins Clinic Sofia
09.13.2021
We are so excited to welcome Dr. Staci Biegner to Clinic Sofia this month! She joins us from Florida where graduated from Florida State University College of Medicine and completed her Obstetrics and Gynecology residency at the University of Florida College of Medicine. She received her bachelor's degree in Biology from the University of South Florida. She is a member of the American Medical Association and the American Congress of Obstetricians and Gynecologists. Dr. Biegner said her favorite part of working in Obstetrics and Gynecologist is the ability to combine all parts of medicine, including providing continuity of care and the opportunity to build long-term relationships with patients. Her special interests within OBGYN include prenatal care and family planning, minimally invasive gynecologic surgery, well-woman care and preventative medicine, as well as ensuring a collaborative, holistic approach to peripartum care. To learn more about Dr. Biegner, please read her bio found here.