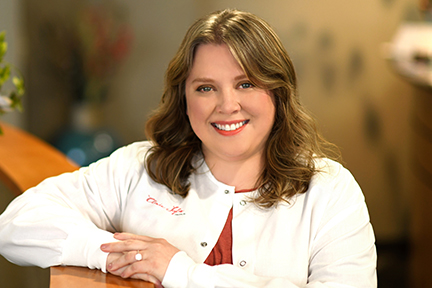 Lindsey Zielinski considers herself "lucky to get to experience Clinic Sofia as an externship student before being hired on as part of the team." Following that experience, Lindsey joined Clinic Sofia as a Medical Assistant in the Edina office in 2011, then transitioned to Maple Grove as a lab technician before following her heart into nursing.
"In my time here, I discovered that I love working with patients and wanted to expand how I can help them, which led me to nursing. Women's health has always been an interest of mine – no two women are the same and neither are their health needs," she says. "It's such a unique field, making it a privilege to work alongside our providers and patients every day to provide the best care."
Lindsey completed an associate's degree in Nursing from Rasmussen College School of Nursing as well as a Medical Assisting Diploma from Minnesota School of Business.
"It's hard for me to pick out one thing that drew me to Clinic Sofia, I've been here so long that I just know it as my normal. I love the environment, the mission and how they truly care about their patients," Lindsey adds. "It has been an amazing journey being part of this team for the last several years, I have learned a lot from both the team and the patients as well. I love what I do and look forward to more years with Clinic Sofia to come."
Outside of work, Lindsey loves spending time in the great outdoors – camping, fishing and kayaking.
Education
Associate: Rasmussen College – School of Nursing
Certifications