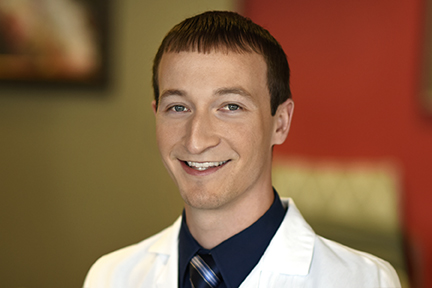 Ask Dr. David Clay what he loves most about being an OBGYN doctor, and he'll tell you it's the opportunity to get to know his patients over time. From delivering babies and being part of one of the happiest days of a patient's life to providing ongoing care and support, he truly cherishes the personal relationships he is able to develop with his patients.
"It is very rewarding to me to be more than a doctor to my patients, to be part of their family and to be an important part of their lives."
While Dr. Clay enjoys working with patients in all areas of obstetrics and gynecology, he particularly enjoys helping women who are struggling with fertility issues to not only determine a cause of the problem but also to work towards achieving the ultimate goal of having a child. Additionally, he also likes to perform minimally invasive gynecologic surgeries. Above all, he greatly appreciates the opportunity to help women be advocates for their own care, another reason he fits right in with the staff at Clinic Sofia.
"I am happy to join a team that holds the same values I do, to help women stay healthy by taking a very personalized and empowering approach to their care."
A native of Ohio, Dr. Clay completed his residency at Riverside Methodist Hospital in Columbus after attending The Ohio State University College of Medicine. He completed his undergraduate degree at Vanderbilt University in Nashville, Tenn.
Dr. Clay enjoys exploring the Twin Cities' dining and activity scenes with his wife and children and spending time outdoors walking, hiking, biking, and taking pictures. He also enjoys caring for his pet rabbit Bessie.
Education
Residency: Riverside Methodist Hospital; Columbus, Ohio
Medical School: The Ohio State University College of Medicine, MD
Undergraduate: Vanderbilt University; Nashville, Tennessee
Certifications
Board Certification: American Board of Obstetrics and Gynecology
Fellow, American College of Obstetrics and Gynecology
Member, American Institute of Ultrasound in Medicine
Member, American Association of Gynecologic Laparoscopists
Awards & Honors
Named a "Rising Star" by Minneapolis/St. Paul Magazine, 2019, 2021, 2022
Speaker/Panelist at RESOLVE's Midwest Family Building Summit for "Infertility 101," 2017–2019 (no conference held 2020–present)
Contributed "Foreward" introduction for "The Infertility Doula" by D. Virijevic and T. Chapinski - 2021
Riverside Methodist Hospital's Department of Medical Education Obstetrics & Gynecology Medical Student Teaching Award
Riverside Methodist Hospital's Department of Medical Education Obstetrics & Gynecology Special Excellence in Endoscopic Procedures Award
Riverside Methodist Hospital's STARS (Success Takes Attitude, Responsibility, and Service) Award
Riverside Methodist Hospital's Department of Medical Education Obstetrics & Gynecology Administrative Award
The Department of Obstetrics and Gynecology Garth F. Essig, MD Award